Making an impression - When it really matters
Regularly changing product presentations, high levels of public traffic and frequent changes in furniture are a challenge for everyone and everything – especially floors. This always needs to look distinctive and sometimes needs to be set up particularly quickly. No problem if the right flooring exists to fulfil every wish.
wineo floors offer first-class technical qualities, fast and simple processing and stylish decors. Whether you are looking for flooring for an individually designed shop, an exhibition stand or a temporary shop-in-shop, with laminate, design or PURLINE organic flooring from wineo, you are guaranteed to leave a lasting impression.
PURLINE organic flooring – the all-rounder:
Authentic surfaces and a wide selection of high-quality decors – can also be custom-designed with PURLINE digital
Extremely durable, scratch and abrasion-resistant whilst also pleasant to stand and walk on
No imprints are left, even by heavy furniture, thanks to a resilience level close to 100%
Odour-neutral and presents no health risk as free from chlorine, solvents and plasticisers
Quick and easy to clean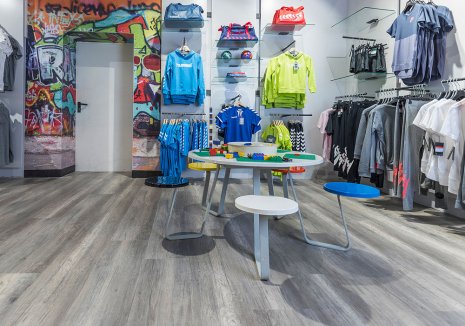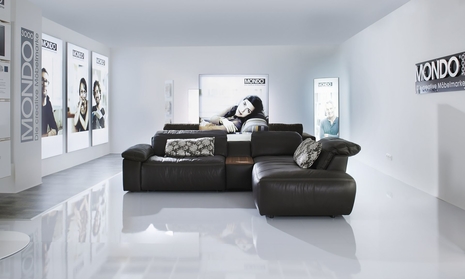 wineo ensures excellent foundations
Our exceptional, unique floor coverings fulfil these complex requirements in the retail and exhibition industry and therefore provide the best foundation.
Suitable for use in almost all areas thanks to various utilisation classes
The flooring is extremely durable and guaranteed to be low-maintenance
Easily meets numerous building, safety and hygiene requirements
100% made in Germany – from the development stage through to production
Naturally: Ecology and sustainability right at your feet
PURLINE organic flooring - Naturally unique
NATURALLY UNIQUE
PURLINE organic flooring is probably the most environmentally-friendly elastic flooring currently available on the market. It is made from natural and renewable materials, contains no toxic additives and is the perfect solution for a variety of situations and applications.
To sum up:
Made of renewable raw materials and natural fillers
Rapeseed or castor oil is used instead of petrochemicals
It is without the addition of chlorine, plasticisers and solvents
Completely odour-neutral and emission-free
Naturally fully recyclable and easy to dispose of
Has received numerous prizes, awards and certifications – from the German Blue Angel seal to the GREENGUARD logo
Laminate and Design flooring
TRULY FLEXIBLE
Incredibly practical and always an eye-catcher. Our laminate and design flooring offer maximum flexibility, are extremely hard-wearing and come in a variety of great designs. Temporary constructions can be achieved in next to no time thanks to the floating installation – cost-effective, no time-consuming preparatory work required and particularly pleasant underfoot.
To sum up:
Extremely easy and fast to install
Ensures maximum protection for the substrate thanks to matching underlay mats
Incredibly robust – easily withstands even the heaviest loads
Very hard-wearing and easy to clean – and therefore also saves resources and costs
Tested according to the EN 13501-1 fire protection standard and approved by the construction authorities
The right flooring for every situation
wineo floor coverings can be used in a wide range of areas – from cashier areas, entrances and exits, walkways and changing rooms to storage and social rooms, as well as offices and emergency escape routes
Our flooring easily meets a wide variety of requirements. See for yourself!